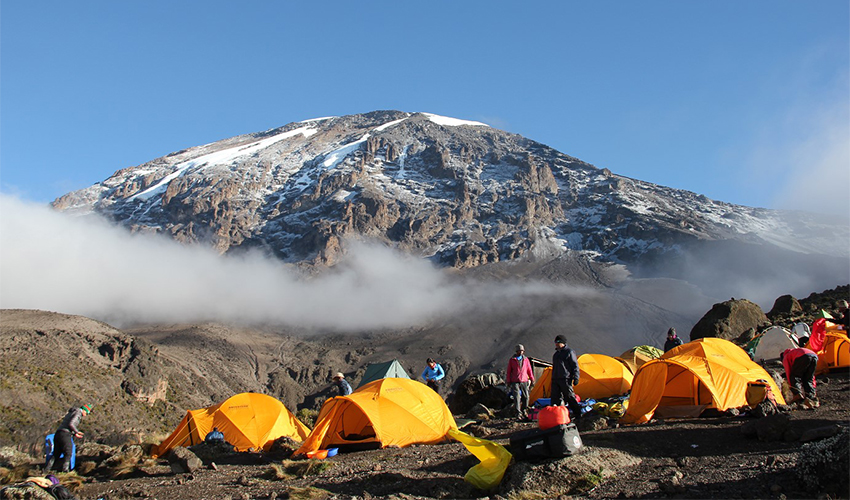 ITINERARY
Day 1: Moshi / Shira hut

Leave hotel after breakfast to shira gate, all the way driving. After we finish with the park gate, start hiking to shira plateau for 4hrs, dinner and over night in the camp.[3000m]

Day 2: Shira plateau/Shira hut

Early hike will start after breakfast to shira hut which is 5-6 hrs, lunch will be on the way. Dinner and over night in the camp.[3700m]

Day 3: Shira hut/Lava tower

This day we will not start very early because the hike is only for 3hrs. so we sleep at [4400m] the camp is lava tower.

Day 4: Lava tower/Barranco

This is a very short day and as well is going down to Baranco camp which is [3800m] and this one will help you very much for acclimatizing for the summit. Dinner and over night in the camp.

Day 5: Barranco/Karanga valley

After breakfast, we face the breakfast wall, on our way to Karanga valley for lunch, dinner and over night.[3900m]

Day 6: Karanga valley/Barafu

Because we have problem of the water in the other camp, we have to carry water all the way from Karanga vallery, by this, lunch is on route. Dinner and over night in Barafu camp.[4600m] In this camp we arrange our gears for the summit. We start hiking for the summit at mid night, so we wake up at 11.00pm.We will be in the Uhuru peak at 6.30am.

Day 7: Barafu /mweka hut

After breakfast at Barafu camp descend to Mweka camp for dinner and over night.

Day 8: Mweka hut/Mweka gate

We take breakfast at 8.30am and then walk down to Mweka gate, then cash our transport to moshi or your destination.
Price includes:
All Transport from shira gate/Mweka gate to moshi
Kilimanjaro airports to Hotel transfer
Food
All park fees, rescue fees, permit fees
Porters and guides wages
Not included:
Drinking water
Tips
Personal things like beers, sodas, cigarettes
Accommodation in Arusha.