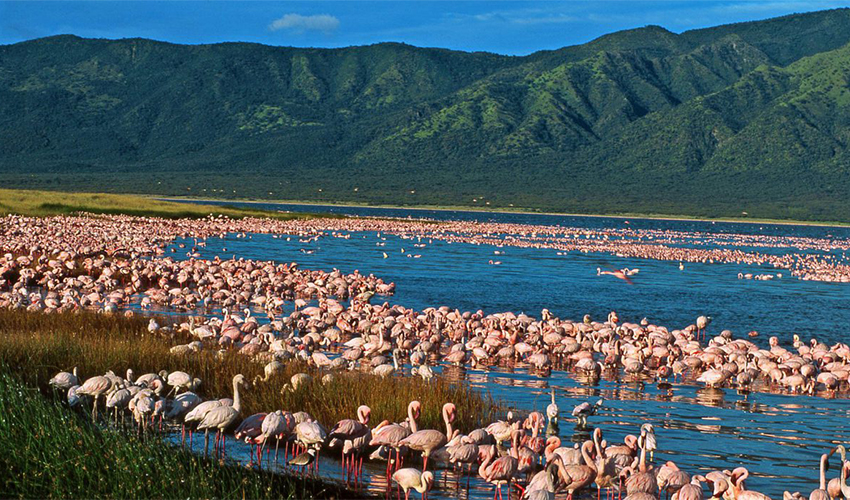 ITINERARY
Day 1: Nairobi/ Naivasha/ Elementaita

After early breakfast pick up from your hotel at 8am and drive through great rift valley arriving Naivasha after one and half hours. Visit Hell's Gate National Park ? descending into the gorges, a steep canyon with running water from geysers and wild vegetation, and where the rocks have split to leave a walking path. Afternoon visit Elementaita where you see Flamingoes. Dinner and night at Fisherman's camp.

Day 2: Lake Naivasha/ Lake Nakuru National Park

After early breakfast depart for Lake Nakuru National Park with picnic lunch. This park has many rhinos, flamingos, white pelicans, which are quite easy to spot. The multitudes of Lesser Flamingos that often form a pink fringe around the Lake are a sight to behold. This park is also a rhino sanctuary and home to other mammals like buffalo, giraffe, lion, leopard, colobus monkey, rock hyrax etc plus other species of birds.If you are lucky the game drives in the park may produce a leopard returning to his daytime hideout. Dinner and overnight at budget accomodation.

Day 3: Lake Nakuru/ Saiwa Swamp National Park ? (a long drive)

After breakfast we leave Nakuru and drive via the Mau Summit, Tinderet Forest and Eldoret to the town of Kitale where we turn north to Saiwa Swamp; the smallest of Kenya's National Parks. This is the home of the shy and elusive Sitatunga antelope that has adapted itself to living in swampy areas. There are some well situated platforms within the Park that allow good views of the Swamp and surrounding forest. Overnight at camp or banda.

Day 4: Kitale/ Mt. Elgon National Park

After early breakfast you depart for Mt Elgon National Park an area of unspoiled mountain forest with a wide variety of game from the elephant, buffalo and colobus monkey to the giant forest hog, water buck and leopard. More than 240 bird species in the area, including the African crowned eagle, Ross? turaco, and red-fronted parrot. There are also caves and spectacular waterfall. Dinner and overnight at camp or banda.

Day 5:Mt Elgon/ Kakamega Forest

We leave for Kakamega Forest a bird watchers' paradise. This is one of the only remaining areas of West African Rain Forest to be found in Kenya. The habitats in the forest and along the rivers offer an insight into what much of Africa must have been like thousands of years ago. Overnight at Rondo Retreat.

Day 6: Kakamega Forest Full day

We have the whole day to walk around this fascinating area seeing bird species that are not seen elsewhere in Kenya. Where possible we can also take walks to local villages for an interesting cultural exchange. Overnight at Rondo Retreat.

Day 7: Kakamega/ Kisumu

After an early morning bird walk in the Forest, we head south again to Kisumu on the shores of Lake Victoria, where we check in to Sunset hotel. Time permitting we can visit the local museum and/or animal orphanage before lunch. In the afternoon we shall visit Lake Victoria, the largest lake in Africa, we may have the chance to do some fishing before heading back to Sunset hotel where we stay for the night.

Day 8: Kisumu - Homa Bay

Leave Kisumu after breakfast, drive southwards through Ahero rice plantations in Kano plains to Odino falls, view the developments around the power generating complex. Continue to Kendu bay for lunch. Proceed to Lake Simbi Nyaima for bird viewing; continue to Kanjira and Kanam hot springs onto Homa Bay. Dinner and overnight stay will be at Homa Bay tourist hotel.

Day 9: Homa Bay -Rusinga - Mbita

After breakfast, drive to Rusinga island, do a tour of the Island to the historical places including the museum (where the remains of the first man were found) by Doctor Louise Leakey, Tom Mboya Mausoleum where this accomplished nationalist cum- politician was burried after his assassination on a Nairobi street in 1969. Return to Mbita for dinner and overnight stay at Lake Victoria Safari Village.

Day 10: Mbita- Ruma National Park - Awendo

Depart after breakfast drive through hills and meandering road to Ruma National Park with a picnic lunch, do game drive then drive out to Thim Lich Ohinga onto Gogo falls then to Awendo for dinner and overnight stay at Sony Sugar Company Guest House.

Day 11: Awendo/ Kericho

After early breakfast depart to Kericho the largest tea growing area of Kenya. Vast tea plantations together with their factories line our route.You will be able to visit a factory.Kenya is the third largest tea producer in the world.
Kericho takes its name from the Maasai chief Ole Kericho, who was killed by the Gusii people in the 18th century. Kericho is a clean, beautiful city in the wet highlands of western Rift Valley, and is the tea capital Kenya.The people in this area are predominantly and historically of the Kipsigis group of the Kalenjin tribe, one of Kenya?s larger tribes.Dinner and overnight at The Kericho tea Hotel.

Day 12: Kericho/Masai mara

After early breakfast pass through lush farming country toward Masai mara with picnic lunch arriving in the afternoon. Proceed for evening game drive insearch of black manned lions, e lephants, leopards,cheetah, buffaloes and other plain game.Return to the camp or lodge for dinner and overnight.

Day 13: Masai mara Full day

A full day spent game viewing a cross the rich,tree studded grassland rolling hills.The famous mara is renowned for its great herds of plain game, black-maned lions,leopard and cheetah but also contains numerous elephant and virtually every type of wildlife to be found in Kenya.In the afternoon you can visit masai villages which is optional all meals and overnight at the lodge or the camp.

Day 14: Masai mara/ Nairobi

Pre-morning game in the park and after breakfast depart for Nairobi lunch en route at Narok town arriving Nairobi around 4/5pm.Drop off at your hotel.
Price Includes:
Park Fees
Transport
Accommodation
3 Meals a day except the first breakfast and last dinner
Services of a qualified driver guide and cook